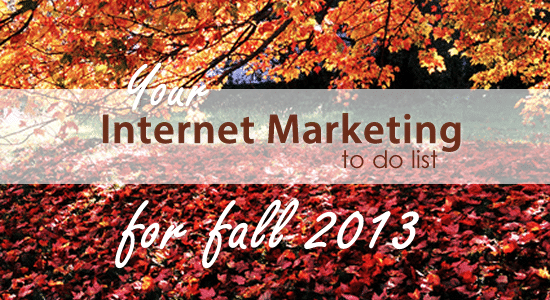 Your Internet Marketing To Do List for Fall 2013
Its that time of year again when golfing, water parks and family BBQs  are coming to an end. So what will you do with your time now?  There's school shopping, football watching,taking trips to the cider mill, Halloween parties… the list goes on. Ok,  so what does this have to do with your internet marketing  strategy you ask? If your activities change with the seasons so do your Google search terms. For example, you are not searching for "Where to buy ladies golf gloves" anymore.  Instead you may search for "Where to buy a leaf blower" or "Halloween costume ideas".  Now are you starting to see?
So when you are not watching the game or raking the leaves in the yard, you need to be writing blog articles that target key phrases that are season specific. Chances are your competitors may not be savvy enough to do this or they won't be motivated. So now is the time to take advantage and reap the benefits!
If you are a landscaper, write articles targeting phrases such as "Fall clean up services" or "Leaf Removal services". If you are a dentist or surgeon there will be football injuries. If you are in the clothing industry you can write not only about warmer clothes but for specific events such as homecoming or Thanksgiving.
What if this time of year happens to be the slowest for your business?  Now is the time to make use of the time and get ahead of your competitors! Even if your business is based on summer activities, start writing those articles promoting summer products NOW. That way next year, you won't have to worry so much about finding time for your internet marketing. Keep in mind, some phrases that are really competitive, could take months to show up on Google. So why not start now, and take a crack at the more competitive phrases you shyed away from before?
 What else can you do before 2013 is over?
Update Your Plugins and WordPress Version
It's easy to let these details get away from us. But forgetting to update plugins and WordPress versions, could wreck complete havoc on your site. Try to take note of these updates every time you are logged in to WordPress, which should be often if you are writing blog articles for your business!
If you do not feel comfortable doing updates or simply don't have the time, Spyder Byte Media offers a service specifically for these updates.
Evaluate Your Design
If you find you do have some time on your hands, it's time to give your website an evaluation. When is the last time it was designed? Does it reflect the latest design trends? Is it mobile friendly? Are  you using WordPress or a static design? Are you receiving enough traffic? Today we design all of our clients sites using responsive WordPress themes. They perform better in search engines and the content readjusts to display perfectly on any device.  We also do WordPress re-designs at a discounted rate.
Your Internet Marketing To Do list for Fall 2013
Spyder Byte Media is a Michigan Web Design Company located in Shelby Township, specializing in SEO and Internet Marketing.  Spyder Byte Media has helped hundreds small business owners in Michigan make it to the top of the search engines and create more revenue by converting their website traffic into new clients.
Need More Help with Internet Marketing? Call the Experts! 586-260-1344