[fusion_builder_container hundred_percent="no" equal_height_columns="no" menu_anchor="" hide_on_mobile="small-visibility,medium-visibility,large-visibility" class="" id="" background_color="" background_image="" background_position="center center" background_repeat="no-repeat" fade="no" background_parallax="none" parallax_speed="0.3″ video_mp4="" video_webm="" video_ogv="" video_url="" video_aspect_ratio="16:9″ video_loop="yes" video_mute="yes" overlay_color="" video_preview_image="" border_size="" border_color="" border_style="solid" padding_top="" padding_bottom="" padding_left="" padding_right=""][fusion_builder_row][fusion_builder_column type="1_1″ layout="1_1″ background_position="left top" background_color="" border_size="" border_color="" border_style="solid" border_position="all" spacing="yes" background_image="" background_repeat="no-repeat" padding_top="" padding_right="" padding_bottom="" padding_left="" margin_top="0px" margin_bottom="0px" class="" id="" animation_type="" animation_speed="0.3″ animation_direction="left" hide_on_mobile="small-visibility,medium-visibility,large-visibility" center_content="no" last="no" min_height="" hover_type="none" link=""][fusion_text]
How to Find a Trustworthy SEO Company in Michigan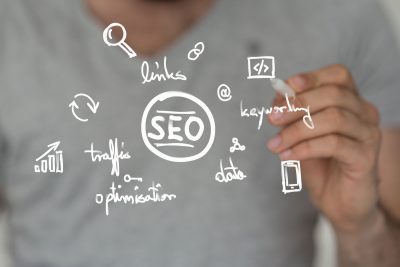 Nearly 51 percent of all web traffic comes from organic search. This is why you need to have a comprehensive SEO strategy in place.
If you are unfamiliar with how to optimize your website for search engine success, then working with professionals is a must. While finding a trustworthy SEO company may sound like a relatively easy task, it is anything but.
Without a great deal of research, it will be difficult to narrow down the selection of SEO professionals in your area. Attempting to handle the optimization of the content on your website without experience will only lead to big problems in the long run.
Here are some of the things you need to consider when trying to hire a reputable SEO company to help you out.
Avoid Companies Sending Out Spam Emails
When trying to narrow down the SEO companies at your disposal, you need to take a look at how they are attracting new business.
Most small businesses fail to realize just how tough Google can be on spam and companies who use it. The team at Google are constantly updating their algorithms to crack down on spam emails and content.
If an SEO company is sending out this type of content to attract new business, chances are they will send them out on your behalf as well.
The companies who use these types of marketing techniques will not be able to provide you with the help you need. You will have to find a company who has a firm grasp on Google algorithms and how to avoid being penalized by this search engine juggernaut.
Getting to the Top Spot in Google Is Harder Than You Think
More than likely, you will meet with a variety of SEO companies before making a decision regarding which one to hire. During these meetings, you will need to pay attention to the promises is making.
If an SEO company claims to have a "special relationship" with Google that will ensure you the top spot on search engine results, be wary. Many small businesses have fallen for these types of scams and have suffered as a result.
Like any other task in life, it takes time to see results when it comes to online marketing. Ideally, you will want to hire a company that is realistic about the amount of work it will take to get the highly coveted top spot on Google search engine rankings.
Transparency is Essential
One of the first things you need to consider when researching SEO agencies is how transparent they are. The last thing you want is to hire an agency that fails to involve you in the work they are doing.
When hiring an SEO agency to initiate marketing campaigns on your behalf, you need to ensure they are transparent. Failing to stay in the loop during this process can lead to a lot of money being spent on marketing methods that simply aren't working.
You need to ask a prospective company about the reports they will provide you regarding the marketing campaigns they are working on. If an SEO agency does not provide reports about marketing campaigns, chances are you need to avoid using them.
Working with an SEO agency that is completely transparent can save you a lot of headaches over time.
Finding a Trustworthy SEO Company Will Require Work
Some business owners think that the right SEO company is just going to fall into their lap. The reality is that in order to find the right SEO company, you will have to do a lot of research.
Going online and looking for the reviews a company has is a great idea. These reviews will provide you with information regarding how well an SEO professional has performed for others in the past.
While doing this online research will require a great deal of effort, it will be worth it. The information you gather from these reviews will make the SEO company hiring process much easier.
A One Size Fits All Plan Never Works
The key to having search engine success is finding a company who will develop a plan of action based on your needs.
There are tons of SEO companies who only offer one type of marketing plan. Failing to get a tailor-made plan will only lead to disappointment in the long run.
When consulting with a prospective SEO company, you need to ask them about their approach to online marketing. If all the company talks about is how they have a universal fit plan, you need to avoid them.
While you may have to pay a company more to create a unique marketing plan, it will be worth it considering the results it will garner.
Know What Your Marketing Goals Are
Before going in to meet with an SEO company, you need to make a list of what your marketing goals are. Providing the SEO company with this information can help you surmise whether or not they are the right fit for your needs.
If the company in question acts like the list of goals you have are unreachable, you probably need to continue your search. Finding a company with a sense of optimism can go a long way in the pursuit of search engine dominance.
Assessing the Cost
Having a marketing budget in place is essential for most business owners. Without a budget in place, you will be at risk of overextending your company's finances.
Once you have an idea of what you can spend each month on marketing, you can start to narrow down the list of SEO companies in your area.
When getting prices from an SEO company, you need to get a list of what they will offer for their monthly fee.
In Need of Online Marketing Help?
Hiring a trustworthy SEO company is the only way to spread the word about the products and services your company offers. In most cases, DIY marketing will end in disaster.
Are you trying to hire a reputable SEO company? At Spyder Byte Media, our main goal is to provide our clients with customized marketing plans that garner results.
[/fusion_text][/fusion_builder_column][/fusion_builder_row][/fusion_builder_container]