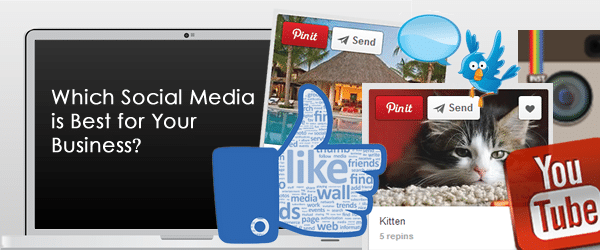 Which Social Media Should You Use for Your Michigan Business ?
It's exhausting trying to keep up with all of the social media sites.  Just when you think you understand one site a new one pops up,  or they change the entire user interface on the site you are using!
Not to mention every social media site has different etiquette, personality and uses different abbreviations and markups.  With all of  the options out there, which is the best fit for your Michigan Business? Is it Facebook ?…Pinterest ?…You Tube?
If you have the time and the resources, you really should be marketing your Michigan business on as much social media as possible.  I am sorry if I just made you even more overwhelmed but there is no social media that is wrong for your business. Sure, some social media sites may make more sense for your business than others. For example, an interior designer may find that Pinterest helps her get more exposure than Twitter does. But the bottom line is all social media helps promote your brand, bring more traffic to your website and can even help improve your Google ranking.
Social Media Means More Exposure
They don't call it social networking for nothing.  It doesn't matter if it's Pinterest, Twitter, Facebook, or LinkedIn, you are getting your brand in front of people that may not have heard of you yet. For example, when someone likes your Facebook business page, this activity will be displayed in their friend's news feed. This means if your new fan has 100 friends, these 100 people will see that your fan has liked your business.
Another benefit of social media marketing is that it allows you to interact with your existing customers. No longer are you just a business collecting money. Now you can connect with people and show your personality. You can easily keep people updated and informed whether it be tomorrow's sale or any other interesting content that your customers may appreciate.
Social Media Means More Web Traffic
Did you know… you can add links back to your site with social media? I don't just mean putting your web address on your profile page either.
That blog article you wrote last week providing tips to your customers? You can post a link on Facebook, Twitter, LinkedIn or whatever you are in the mood for. If your article is enjoyed by people, for example your "7 tips on how to save money" is really helpful and informative, people will share it. Not only does this bring more traffic to your site, you will receive more exposure from friends of friends of friends that may not have heard of you otherwise.
Social Media Helps Search Results
You may or may not know but social media and Google search results are becoming more and more connected. Let's say you post that article we mentioned earlier about saving money. And let's say a lot of people like it, share it and even comment on it. Google is smart enough to know that next time someone does a search for your type of business, that your site is probably pretty interesting since that article from your site received so many likes and shares. And since Google's job is to provide valuable content in the results, your site may be prioritized over your competitors that didn't take the time to engage in social media. To learn more, read our article on how social media influences search results.
Which Social Media Should You Use for Your Michigan Business ?
Spyder Byte Media is a Michigan SEO Company located in Shelby Township,  that has helped hundreds of Michigan business owners with their internet marketing needs. Whether you need to increase your Google ranking, or need help with blogging and social media,  Spyder Byte Media can help you get more leads, more clients and more revenue.
Need Help with Social Media for your Michigan Business ? Call Spyder Byte Media Today: 586-260-1344