[fusion_builder_container hundred_percent="no" equal_height_columns="no" menu_anchor="" hide_on_mobile="small-visibility,medium-visibility,large-visibility" class="" id="" background_color="" background_image="" background_position="center center" background_repeat="no-repeat" fade="no" background_parallax="none" parallax_speed="0.3″ video_mp4="" video_webm="" video_ogv="" video_url="" video_aspect_ratio="16:9″ video_loop="yes" video_mute="yes" overlay_color="" video_preview_image="" border_size="" border_color="" border_style="solid" padding_top="" padding_bottom="" padding_left="" padding_right=""][fusion_builder_row][fusion_builder_column type="1_1″ layout="1_1″ background_position="left top" background_color="" border_size="" border_color="" border_style="solid" border_position="all" spacing="yes" background_image="" background_repeat="no-repeat" padding_top="" padding_right="" padding_bottom="" padding_left="" margin_top="0px" margin_bottom="0px" class="" id="" animation_type="" animation_speed="0.3″ animation_direction="left" hide_on_mobile="small-visibility,medium-visibility,large-visibility" center_content="no" last="no" min_height="" hover_type="none" link=""][fusion_text]
What Is a Content Marketing Strategy?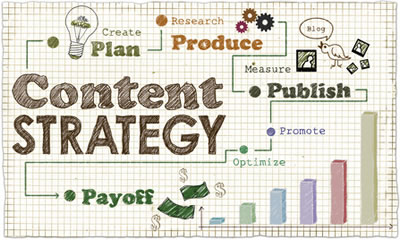 If you read our first article in this series, you have an understanding of the importance and impact of high quality content on your site pages.  You may even now accept that your existing content is in need of "brushing up" and new content should probably be created.
If so, great! But, before you begin, think a bit about how to get the most out of your newly discovered appreciation for your content. This requires developing a strategy.
A Content Marketing strategy is the plan you/your company design for the "how", "how much", "when", "where" and "why" of creating and publishing your site content.  It's the schedule and budget drafted and executed for launching and maintaining a continuous content publishing program for your website.
The goals of a Content Marketing strategy are to:
Identify the various types of content you/your company will develop (copy/text, images, videos, etc.).
Determine how the content will be created and formatted for online publication (i.e., decide who will provide your content services).
Achieve and maintain a high ranking on all the major search engines (Google, Bing, Yahoo).
Attract more visitors and keep them on your site longer by engaging, educating, and entertaining them.
Attain credibility and visibility from sites with what is referred to as "High Domain Authority"; (major news outlets; national publications, etc.). This will enable your content to be published or shared (re-posted) by them thereby expanding your reach beyond those who chose to visit your site through an online search.
To draft your content marketing strategy, you would ask yourself (or your team) questions like?
What are our objectives for incorporating a Content Marketing strategy? For example, will your objective(s) be to:
Increase brand awareness?
Capture online media attention – both traditional and social?
Generate links to other "high authority" online publications? Increase our page rankings?
Get more traffic to your site?
Generate qualified leads?
What will we do in-house and what aspects will we outsource? For instance, if you have a professional copywriter in-house who can draft your page content, will you hire a professional Editor to make sure the copy is professionally prepared/edited for online publication so that it reaches its intended audience and purpose?
For our copy/text content, will we blog?  If so, how many per week/per month?
Will we publish white papers or eBooks as free downloads to site visitors? If so, how often?
What images/graphics will we create and how will we use them?  Will they link to other relevant   pages internally and/or externally?
How will we monitor results?
Hopefully, the  Content Marketing articles we have provided have prompted you to consider – or re-consider – if you're getting the most value from your current web content, and if you should be paying a bit more attention to how much and what type of content you should be publishing regularly on your site.
As Content Marketing specialists, we can assist you in getting a better understanding of the type of Content Marketing strategy that would be most effective for your business and your internet marketing objectives. And, we'll remain available to help you get answers to the very vital questions and considerations that we have presented to you.   Give us a call today at 586-260-1344 for more information on our Content Marketing services.
[/fusion_text][/fusion_builder_column][/fusion_builder_row][/fusion_builder_container]