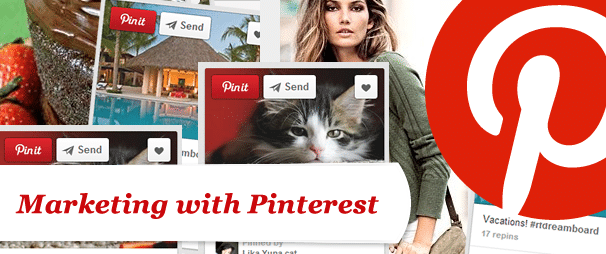 The Small Business Guide to Pinterest Marketing
1) Select an Optimized Username
What does this mean? Try to include key words relative to your industry in your username. The username is different than the field that simply displays your company name. Your username is basically where your customers can find you. So for example, if your username is AbcDecorating, your pinterest URL would be pinterest.com/AbcDecorating .
2) Optimize the About Area
Pinterest gives you a total of 200 characters to describe your business. Not only should your profile appeal to the user, try to incorporate some key words and phrases into the text. Finally add your company website URL to drive traffic to your website.
3) Optimize Your Pinboards
Instead of naming your pinboards things like "My Favorite Styles" or "My Favorite Products" choose more descriptive titles such as "master bedroom furniture" or "Bathroom Decorating Ideas". This way you are including key words that users could potentially search for.
4)Provide  Helpful  Information
If you are an interior decorator, your portfolio should not be the only thing you are pinning. In addition to adding pictures of your work, provide users with some type of value such as decorating tips … how to choose the right lighting or how to select the right colors.
5) Take Advantage of the Description Area
Pinterest gives you up to 500 characters to enter a description for your pins! This is even more characters than your Pinterest about area.You can add product descriptions, recipies, or product instructions here while being sure to incorporate keywords.
6) Use Hashtags
Hashtags aren't  just for Twitter anymore! What are hashtags?  Hashtags  help you to organize your pins by a specific themes, and optimize your pins for the Pinterest search. Feel free to add hashtags to board titles, board descriptions, account descriptions and profile names.
Did You Know …
We all know that Pinterest is image based but did you know that the actual choice of image can make a difference as to whether or not it is repinned?
Image Considerations
Based on an article from Curalate there are certain characteristics of images that can promote repins.
Color: Images that are reddish orange typically receive more repins than images with a blueish hue. Also, images with multiple colors will receive more repins than those containing 2 colors or less.
Lightness:Images with a medium lightness will be repinned more than dark photos.
Saturation: Images that are 50% saturated are preferred over images that are very desaturated.
Faces:Images without faces are repinned more often than images with faces.
Background: Photos with a <10% background are repinned 2-4 times more than images with a >40% background
Texture: "Smooth Images" are repinned 17 more times than pins with a rough texture.
The Small Business Guide to Pinterest Marketing
Spyder Byte Media is a Michigan Web Design and Internet Marketing Company located in Shelby Township, Michigan. Spyder Byte Media has helped hundreds small business owners in Michigan make it to the top of the search engines and create more revenue by converting their website traffic into new clients.
Need more help with your Pinterest Marketing? Call:586-260-1344