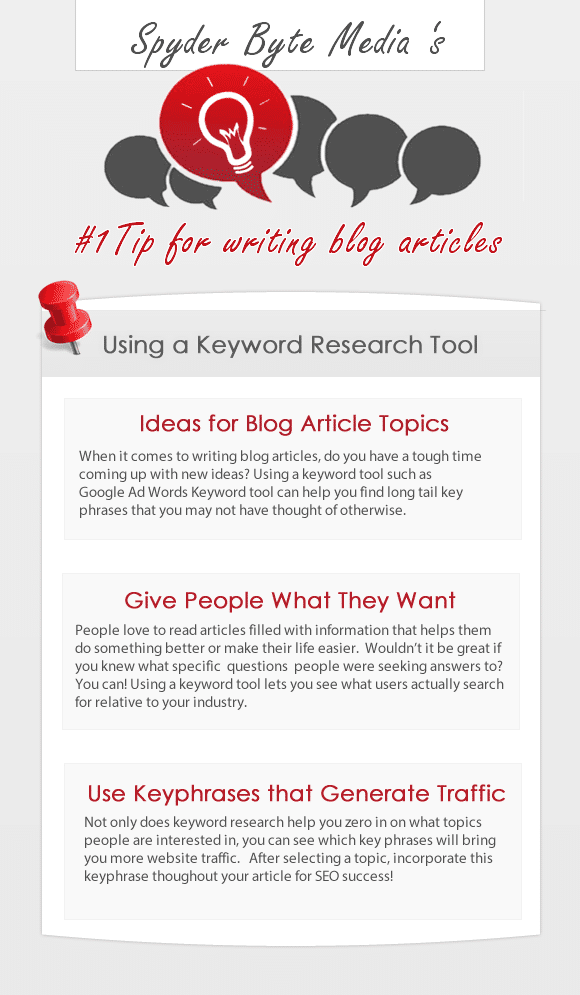 The #1 Tip for Writing Blog Articles for Your Michigan Business
We find that many of our clients dread writing blog articles, even though blogging can help generate tons website traffic and help business owners outrank their competitors on Google.
Perhaps it's the idea of writing itself, or maybe it's just coming up with the right topic.  If you have been blogging regularly, you may find that you just run out of ideas. If this is the case, you are going to love this topic generating tip that we have to share with you: Use a keyword research tool to find out what your target audience is searching for.
The best blog articles are the ones that provide answers to questions and helpful information, and by using a keyword tool such as Google AdWords keyword tool, you know exactly what questions people are asking.
Not only will you writing content that people are interested in, but you will be able to incorporate a given phrase throughout your article and potentially show up in Google's results when someone does a search for that particular phrase.
The Google Adwords keyword tool is easy to use, available to anyone, and you don't have to sign up for anything. You can access this keyword tool by going to https://adwords.google.com/o/KeywordTool
All you have to do is enter your website's domain name, and fill out the captcha and the tool will provide a list of keyword ideas.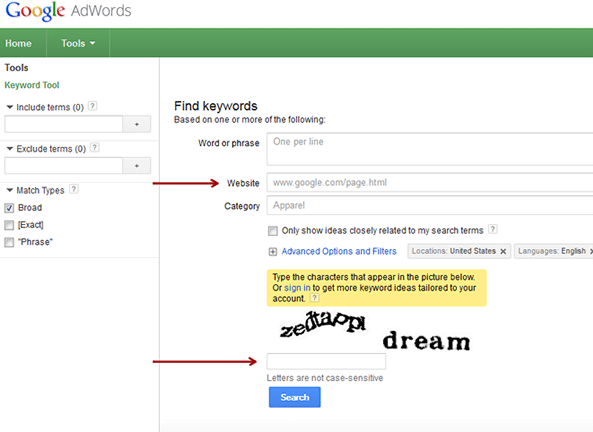 What Makes Certain Keywords Better than Others?
After you type in your domain name, you may see hundreds of keyword ideas. Certain phrases will be better than others and you can narrow down the results by selecting  phrases with a medium search volume with low to medium competition.  You can see this information in the columns on the right.

After you have narrowed down your list, niche it down even further by selecting the longer key phrases, for example 3-5 words.  Longer key phrases, often referred to as long-tail keywords, will have a lower competition and will more than likely be in the form of a question. These phrases are perfect for writing blogs for your Michigan business.
Refine Your Search for More Keyword Ideas
If you still haven't found any new topics for writing blog articles,  refine your search to get more suggestions relative to a key phrase. For example, when we type in spyderbytemedia.com as the domain, one of the keyword ideas is search engine optimization web design. This key phrase is pretty broad and does not offer any new ideas for blog article topics. If we click on the arrow next to the phrase, a drop down menu will display additional options.  If  we select "Show more like this,"  we will see a new list with similar keywords to the original phrase.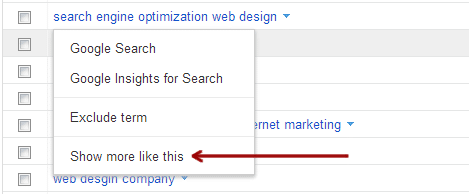 The #1 Tip for Writing Blog Articles for Your Michigan Business
Spyder Byte Media is a Michigan Website Design and Internet Marketing company located in Shelby Township, Michigan. Spyder Byte Media, helps Michigan clients just like you with all of your SEO and social media needs for your Michigan small business. For more information on using SEO to drive traffic to your website, call us today!
Need more help writing blog articles for your Michigan Business? Call: 586-260-1344