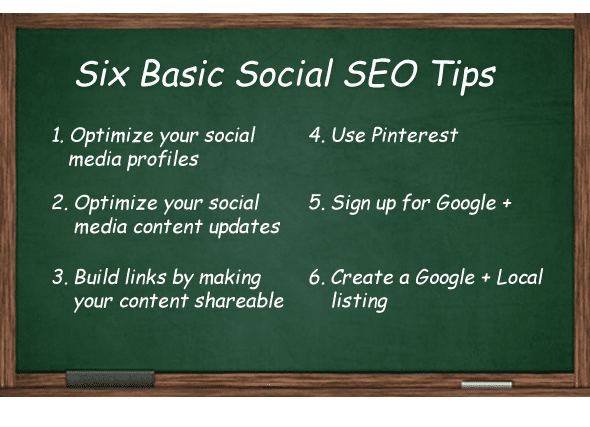 Social SEO Tips for your Michigan Small Business
#1 Optimizing Social Media Profiles
This does not mean to sign up for Facebook upload a profile picture and then forget about everything else. No one likes to fill out information online, we know it's no fun but the more details you add, the more search-friendly your social profile will be. So fill out all of the "About" and "Information" areas!
#2 Optimize Social Media Content
Whenever you post something, be sure to include key phrases within your content. This is true for Pinterest, Facebook, Twitter, you name it.
#3 Post Shareable Content
Posting shareable content will give your business more exposure and create more backlinks to your content.
What does this mean?
Likes, shares, repins, retweets and even comments count as online votes for your content. This is because Google can see that other people engaged in your content in one way or another and therefore it must be valuable.
#4 Use Pinterest
One way to create shareable content quickly and easily is to get pinning. Google favors pages from websites with a lot of traffic, such as Pinterest.  As mentioned in Tip #2, incorporate key words into your pins, pin board titles, and pin descriptions, and pin board descriptions. You can optimize your content on any social media site, but Pinterest allows you to optimize a little further than other social sites.
#5 Sign Up for Google Plus
Hmmm… Google and Google Plus…any relation? You bet. If you want to create more online exposure, signing up for a Google Plus account is one simple way your business can start showing up in the search engines. In fact, Google Plus can influence your website's Google ranking.
As mentioned in Tip #1, be sure to complete as much information as possible in the "About" area and use key words relative to your industry. Google Plus also allows you to include a few different links so you can link back to your website, or other social media sites.
#6 Create a Google Plus Local Listing
If you have a brick-and-mortar business, it's crucial that you create and optimize a Google Plus Local listing (this used to be called Google Places). A Google Plus Local listing is different from a Google Plus Business Page because it allows users to connect with your business's actual location.
Again, the benefits are two-fold, as this account will create additional backlinks to your website.
Social SEO Tips for your Michigan Small Business
Spyder Byte Media is a Michigan Web Design Company located in Shelby Township, specializing in SEO and Internet Marketing.  Spyder Byte Media has helped hundreds small business owners in Michigan make it to the top of the search engines and create more revenue by converting their website traffic into new clients.
Looking for more Social SEO Tips? Call today: 586-260-1344