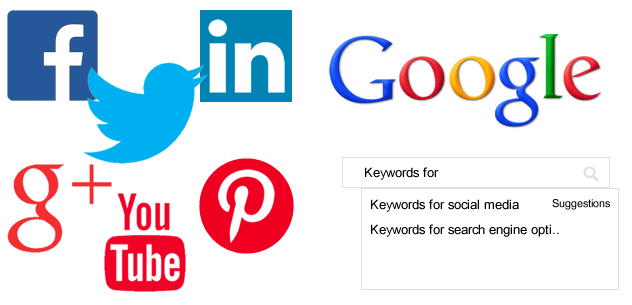 Social Media Keywords vs. Google Keywords – What Your Michigan Business Should Know
Keyword is a term that you are most likely familiar with. You know that in order to show up in a search, you have to target the proper keywords. However, did you know that targeting the same keywords for search engines (like Google) and social media is not the best practice for your Michigan business? In order to maximize your visibility, you will need to do a little extra work.
Think about this for a minute, when you are on a social media site, what are you looking for? Is it the same as what you would search for on Google? For instance, on Twitter, would you think to type in "How to optimize my website"? Of course not, but you would on Google. Think also across social media sites: users of Twitter are using different keywords and searching for different things than users of Flickr. The main difference between search engine search and social media search is the user; search engine search users are looking for information or answers to questions, while social media users are looking for a social engagement.
Keyword Research is Important
So it's time to start researching. Keeping in mind that each social media site is different, you will need to do research based on each site individually. This may initially seem like a lot of work, but it will pay off for your Michigan business in the long run. There are a few major social media sites to concentrate on: YouTube, Facebook and Twitter for starters.
Let's start with YouTube. Video is one of the fastest growing forms of connection with potential clients and YouTube is currently the biggest video sharing website. When searching for keywords, you should be trying to find out what people are searching for, how they are searching, and how to get your information found. There are two tools available for research of keywords for YouTube. The first is YouTube itself. When you visit YouTube, there is a search box at the top. When you enter text into the search box, YouTube, much like Google, will come up with popular suggestions in a drop down for you to choose from. These suggestions are sorted by search relevance and should help you determine what users are searching for. The second tool is called YouTube Keyword Tool. The YouTube Keyword Tool lets you search specific keywords and find out how they rank in a monthly search by volume. Integrating the keywords that you come up with from these searches into your video title, the tags and video description will help get your video more views.
Twitter is a fast paced area of social media that is important to get a handle on for your company. There are many keyword research tools available for Twitter that allow you to track hashtags (#) and trends on Twitter which can help you to get your company seen. Doing a search on Twitter is a good starting point, there are also sites like hashtags.org and twitscoop.com that let you see the latest items that are trending on Twitter. By finding the trends, you can see how to market your business and fit into the conversation to get noticed.
Facebook search is done a little differently, with likes and check-ins. For a more detailed explanation of how to perform a keyword search on Facebook read our blog article SEO Tips for Facebook Search – What Michigan Businesses Should Know.
Having performed a thorough keyword search for each of the social media platforms you should be able to outrank your competitors. It is important to remember that social media keywords vs. Google keywords are different.
Social Media Keywords vs. Google Keywords – What Your Michigan Business Should Know
Spyder Byte Media specializes in keyword search and SEO for businesses. If your company is in need of assistance, let Spyder Byte Media help you. Call today to find out how your business can get to the top of the search ranks and stay there.
For help choosing the right keywords for your Michigan business, call 586-260-1344