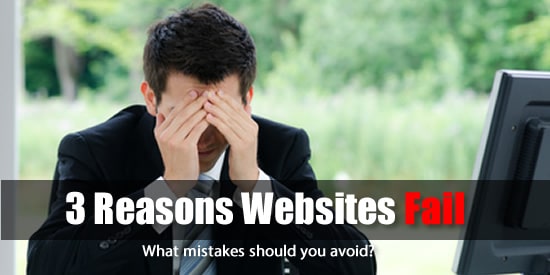 Michigan Web Design Company Explains Why Most Websites Fail
#1 Your Website Serves as an Online Brochure instead of an Online Salesman
Most websites simply serve as an online brochure instead of a place for resourceful, up to date information representing their company as an expert in their industry.
Few companies are creating websites that continue to work hard for them long after the initial site launch. This means working hard to attract visitors, working hard to generate leads and working hard to provide customers with valuable content. Companies might redesign their website thinking simply changing the aesthetics will convert visitors into clients when this is only one part of the conversion process.
Think about it. A big part if whether you do business online is whether you trust the company and whether you think they know what they are doing.  If you get to a site and all you see is features and pricing, you don't really know if the company is  trustworthy or an authority in their field.  Your website needs to show people why they should trust you.  People want to be comforted by the fact that they are working with a leader in the industry and not just a price list.
Even with cutting-edge design and the best seo techniques, a website still needs to have valuable, relevant content added to it  regularly, and this content should promote conversation on social media sites. Remember that the purpose of a website is to attract visitors, generate leads and convert visitors into customers. To achieve this, you need a website that presents your brand as an industry leader, has visible calls to action , social media, video and other interactive elements.
#2 Your Website is One Size Fits All and It is Rarely Updated.
Back in the 90's websites were created with a "set and forget" mind set.  Even web "site" implies something  that is fixed and doesn't change.  The reality is that your site should never be finished. It should be updated on a regular basis. Put it this way, if you have to contact your web designer every time you need to make a change you have a problem.
You should be able to easily add content to your site and do so often. Promote those special offers and go after your competitors right away, not wait for your web designer to add you to their schedule.
Another misconception is that you can buy an inexpensive template, add some content,  pay $5 a month hosting fees and viola!  We have a website!  You are making an investment and representing your brand online so this is not  the time to be taking short cuts. Invest in a quality website, built using a content management system that allows you to post articles and add content quickly and easily.
#3 Your Websites is Built for the Company and not the Consumer
Most websites are built around the company instead of the consumer. Don't talk about how awesome your company is…talk about what you can do for your customers to make their lives easier. 
Customers visit your site, to either  answer a question , solve a problem or make a purchase. They don't come to your website to hear you talk about yourself.  Even if your website is beautiful, if it doesn't provide what customers are looking for it will fail.
Michigan Web Design Company Explains Why Most Websites Fail
Spyder Byte Media is a Michigan Web Design and Internet Marketing Company located in Shelby Township, Michigan. Spyder Byte Media has helped hundreds of small business owners in Michigan make it to the top of the search engines and create more revenue by converting their website traffic into new clients.
Looking for a Michigan Web Design Company? Call:586-260-1344