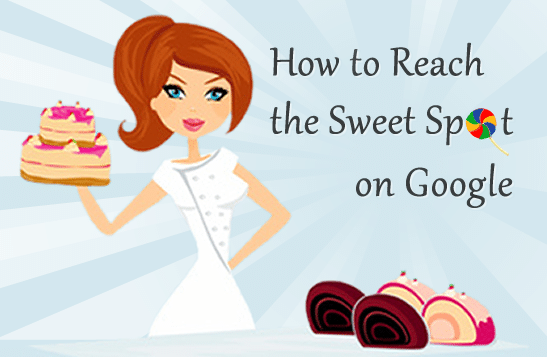 Michigan Web Design Company Explains: How to Reach Google's Sweet Spot
If you are a Michigan small business owner, there is no such thing as too many clients. It doesn't matter if sales are up or if business is slow, marketing your business and generating more leads is always high on the priority list.  A website that is designed and structured well and properly maintained can actually do a lot  of the work for you, if you can claim the top positions in Google's search results.
How can this be achieved when there are only 10 spots on the first page of Google and so many businesses to compete with? There are certain steps you can take so your website can hit what we like to call Google's sweet spot.
Michigan Web Design Company Explains: Off Page Ingredients
Quality Link Building
Google takes into consideration the number of quality links that point to your website. What does this mean?  Build links back to your website from trustworthy and authoritative sites.
Social Media
Google's job is to serve up the best results when people search for information. One indication of good website content is content that gets a lot of shares or likes on social media sites.
Video Marketing
Shoot short videos and post them to YouTube…the number one video sharing site, owned by Google. When viewers find your video and share it, not only will you receive more online exposure, but your website will be perceived as valuable content by Google.  The benefits don't stop here. Your actual YouTube video can show up in the search results. Why settle for just your website showing up on Google? Your YouTube videos can claim an additional positions in the search results…This means less positions for your competitors.
Michigan Web Design Company Explains: On Page Ingredients
Keyword Research and Targeting
Determine your target market and the key phrases people use when searching for your product or service that you offer. Once you have done your research, incorporate these key phrases into your content.
Quality Content and Lots of It
Not only should you include key words related to your industry, but your content should be unique, informative and worthy of sharing on social media sites. Also keep in mind that larger sites will rank higher than smaller ones so the more content the better!
Site Architecture and Structure
Make it easy for Google to create an hierarchy map of your website and index each page. What does this mean?  Make sure all of your pages are accessible from the main navigation. Check for any broken links and don't forget to include a sitemap.
Write Blog Articles Regularly
What does Google love even more than content? Fresh content on a regular basis. Using a blogging platform such as WordPress, makes it very easy for you to add new information and target additional key phrases.
Michigan Web Design Company Explains: How to Reach Google's Sweet Spot
Spyder Byte Media is a Michigan Web Design Company located in Shelby Township, specializing in SEO and Internet Marketing.  Spyder Byte Media has helped hundreds small business owners in Michigan make it to the top of the search engines and create more revenue by converting their website traffic into new clients.
Need to Consult with a Michigan Web Design Company?  Call the Experts! 586-260-1344