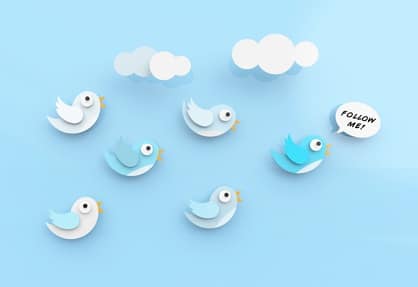 Small business owners need to have an arsenal of tools and tweeting on Twitter should be included in that arsenal.  With the sophistication of internet searches, it is a simple process to find a large, general group of consumers with similar interests or a small group of consumers with a very specific interest in your product or service.  Which tool, or combination of tools, is used in a Twitter Marketing campaign may very well determine the success or failure of that campaign for your small business.
Here are some quick tips on how to use Twitter Marketing for increasing your leads, clients and revenue for your small business:
Twitter Marketing Tip 1

: Determine the purpose of your ad campaign and set some goals.  Do you need to reach the large group with broadly similar interests or a more narrowly searched group with specific common interests?  As with any Twitter Marketing effort, if you don't know what you are trying to accomplish, you'll fail.

Twitter Marketing Tip 2

: Understand Twitter Marketing and how it works.  Twitter posts are short, less than 140 characters, and called tweets.  You can post as many as you want, but if you try to write a novel 140 characters at a time, people will not follow you.  Attracting followers is the key to Twitter Marketing.  That may be large numbers of followers or it may be specific types of followers, depending on what is being marketed.

Twitter Marketing Tip 3

: The most common way to attract a follower is to become a follower.  Software is available to help you organize an efficient follower campaign.  Follow me icons should be placed on your emails, websites and blogs directing those contacts to Twitter and encouraging them to become your follower.

Twitter Marketing Tip 4

: A steady flow of tweets is best for retaining followers and generating new followers.  This can best be accomplished by creating a tweet schedule.  Take time to write tweets that will benefit your business, put them in the most beneficial order and schedule them to be delivered.  This method is much more efficient than getting on line every now and then and posting a tweet.  Not only will it save time, but your presentation will have better flow and organization.

Twitter Marketing Tip 5

: Be interesting.  Consider what you don't care to know about other people or other businesses and avoid including that type of material in your tweets.  You probably don't care to know how many mowers Johnny's mowing service has and Johnny probably doesn't care to know how many plumbing trucks your company has on the road.  Include content that will keep Johnny interested until the day he needs a plumber and calls you.

Twitter Marketing Tip 6

: Import your own contacts from Gmail, Hotmail and your own address book.  This is an essential first step in developing a following.

Twitter Marketing Tip 7

: Don't over-tweet.  Provide a steady flow of information, but not so much that it drives followers away.

Twitter Marketing Tip 8

: Don't spam your products or services.  Who do you know that likes spam and would voluntarily follow a spammer?
Knowing when to pull the Twitter tool from the marketing choices in your arsenal and how to use it can greatly enhance the visibility of whatever you are marketing.  It can also decrease visibility, increasing the efficiency of an ad campaign that benefits from pinpoint accuracy in reaching targeted demographics.  The best educator is often experience.  Open a Twitter account and spend some time looking around to see what attracts you, what turns you off and how others in your industry are marketing themselves there.
Michigan Twitter Marketing  and Facebook Marketing Expert:
Russ Cuthrell is a Twitter Marketing Expert located in Shelby Township, Michigan. His company, Spyder Byte Media,  helps hundreds of clients each year with getting their small business websites to the top of Google, Yahoo, and Bing using Twitter Marketing and Social Media Marketing techniques.