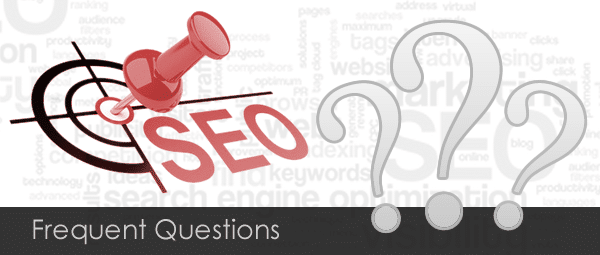 Michigan Small Business SEO FAQ
Why isn't my website showing up on Google?
This is a question typically asked by Michigan business owners with a new website. They thought that Google would realize how awesome their new site was and automatically start ranking it on the first page. If only this were true!  Simply having a new site that looks nice is not enough. You must apply the right SEO techniques.
There are a ton of factors Google considers when ranking your website.  Some of these include social media, authoritative links pointing back to your site, quality and relative content, and how often you add new content.
Perhaps you tried some SEO techniques and you are still not seeing results. This may be because Google updated it's algorithm since you had your site optimized or someone optimized your site using "black hat techniques". Black hat techniques are basically SEO techniques that try to game the system. The problem with these are that it doesn't take long for Google to figure out you are trying to game them. Next thing you know site owners are wondering what happened to their ranking.
When will we see results?
It will depend on what phrases you are trying to rank for.  Some competitive, high volume keywords might take a year or more.  However you may see results from long tail key phrases(3-5 words) in a couple weeks.You can determine how competitive a phrase is by using a keyword tool.
You must also consider who your competition is. If your competitors are not optimizing their sites like they should then you may be in luck and see results sooner. If your competiotion is pretty SEO savy you may have to work a little harder to see results.
I was ranking #1 on Google and now I'm invisible
This could be for a number of reasons. It could be that you have some new competitors that have optimized their site a little better than yours or they are adding more content on a regular basis.  SEO is not a "set it and forget it" technique, it is ongoing.  Not only do you always have to be one step ahead of the competition, but adding fresh content is a ranking factor itself. Google's job is to provide people with quality sites in the results. Sites that consistently add new content are considered more valuable to users than sites with stale content. It only makes sense.
For more information read our article on Why Websites Lose Their Google Ranking
Can't my son-in-law who is a graphic designer do the SEO?
I enjoy cooking but I am not going to open up a restaurant. Graphic designers do what they do best, design. They may know some SEO techniques but more than likely not enough to get you the exposure your site needs. Also graphic designers may underestimate the importance of SEO or misunderstand it. Sometimes companies hire designers to build them a website and think that their site will just show up on Google automatically. Unfortunately , without the right SEO techniques, your new, gorgeous site will stay pretty much invisible to the search engines.
Michigan Small Business SEO FAQ
Spyder Byte Media is a Michigan Web Design and Internet Marketing Company located in Shelby Township, Michigan. Spyder Byte Media has helped hundreds small business owners in Michigan make it to the top of the search engines and create more revenue by converting their website traffic into new clients.
Need SEO for your Michigan small business? Call:586-260-1344