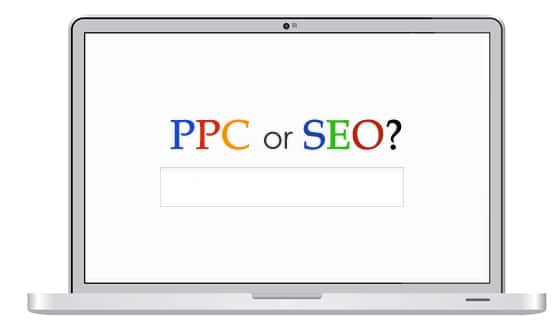 Michigan SEO Expert Explains Organic SEO vs. Pay-Per-Click
If you have a website for your Michigan business, you probably already know that the first page of Google is prime real estate. And if you have ever researched search engine marketing you may have heard of 2 different techniques used to get to the top: organic SEO (SEO) and Pay-Per-Click(PPC). So what's the biggest bang for your buck? Before we dive into comparisons, let's go over exactly how each of these internet marketing techniques work.
What is Organic Search Engine Optimization(SEO)?
Search Engine Optimization uses more of a natural approach than Pay-Per-Click. For this type of SEO to be effective, a web designer should begin optimizing a website as soon as they start building the site. There are certain requirements that Google looks for when displaying the search results and these need to be incorporated into the framework of the site. Designers can add content that makes it easy for Google to read and rank the site.
In addition to optimizing the actual content, having trustworthy and authoritative links point back to your site can help businesses outrank competitors on Google.
Depending on the competition for your targeted phrase, organic SEO can take awhile to see results, anywhere from a couple weeks to a year or more. In a fast paced and instant gratification world, this is hard for Michigan business owners to understand, which is why they may consider Pay-Per-Click advertising.
What is Pay-Per-Click?(PPC)
With Pay-Per-Click, website owners pay Google a set amount in order to have their site listed in Google's results. As soon as a user clicks on their website, money is deducted from their account. If their account runs out of money, Google stops displaying the ad until they replace the funds.
So someone may ask, why would I bother with all the effort involved in organic SEO when I can see results sooner by simply buying my way to the top with Pay-Per-Click?
Well like most things in life, sometimes the quick and easy route is not always the best for long term results.
Is Organic SEO Better than Pay-Per-Click?
Pay-Per-Click ads are located on the top of the search results in yellow, as well as on the right hand side.
Since Pay-Per-Click listings are typically displayed under a "Sponsored Ads" or "Sponsored Links" area on Google ,people don't always trust these as much as the organic results. Studies have even shown that people's eyes will go to organic search first.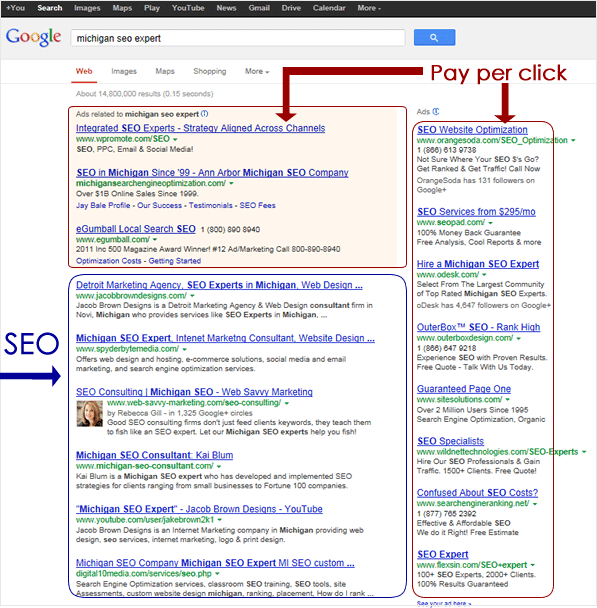 Organic SEO is a Better Investment
Paying for your ad to be displayed at top of Google can get pricey, especially since competitive words and phrases are typically more expensive. Not to mention, organic SEO has longer lasting results. With Pay-Per-Click, once the funding runs out , the listings on Google are removed. On the other hand, the results from organic search engine optimization, could take years to fade away, if ever.
I like to think of Pay-Per-Click as a fad diet where you lose weight quickly but it doesn't stay off, whereas, SEO is like adopting a healthier lifestyle altogether. This takes a lot more time and effort on your part but it pays off in the long run.
Michigan SEO Expert Explains Organic SEO vs. Pay-Per-Click
Spyder Byte Media is a Michigan Web Design and Internet Marketing Company located in Shelby Township, Michigan. Spyder Byte Media has helped hundreds small business owners in Michigan make it to the top of the search engines and create more revenue by converting their website traffic into new clients.
Need to Hire a Michigan SEO Expert? Call: 586-260-1344