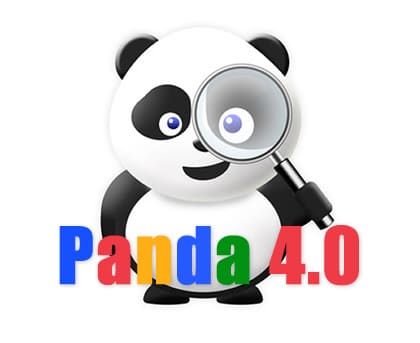 Are you confused by all the different Google updates you keep hearing about?
Google is constantly making changes to their algorithm with their goal being to improve user experience,  fight spam and other black hat SEO techniques.
Google's latest update, Panda 4.0 has affected many websites and their rankings. Google actually makes monthly Panda updates but since Panda 4.0 was a much larger update, some site owners have experienced a drop in their ranking while some people are seeing a major improvement.
Panda is designed to eliminate sites with low quality, thin content from showing up at the top of Google's results. The good news is if you have been adding quality content to your site and using white hat SEO techniques your website should not be in any danger of losing it's ranking. In fact, since Google is filtering out sites with content of little value, your site may actually increase in ranking.
What is Considered Thin or Low Quality Content?
Content that is written poorly, text copied from other websites, duplicate content on your site, or simply information that has no value to the user.
Remember Google's goal is to provide websites with valuable information in the search results.  A user should feel that when they click on a link in the search results that they have found the information they were looking for.
What Should You Do to Protect Your Site from Panda 4.0?
First check your analytics.  Do you have a high bounce rate?  Are there pages on your site that are not performing as well as others?  Either work on improving the content or simply remove it from your website.
Always write original quality content and never steal copy from other websites.  So what is considered high quality?  Thoughtful research on your topics and information that is compelling to the user.
You can also take a look at the winners and losers of the Panda 4.0. What type of content is on the sites that experienced a recovery? What do the losers have in common? Take a look at the analysis Searchmetrics has provided. This analysis lists sites that either experienced a recovery or got crushed. See the Searchmetrics analysis
In addition to writing original, quality material, always apply on-page optimization to your pages, consider site architecture and user experience and your site should survive the Panda updates.
Michigan SEO Company Explains Panda 4.0
Do you need help recovering from Panda 4.0? Spyder Byte Media is a Michigan SEO Company located in Shelby Township, that has helped hundreds of Michigan business owners with their internet marketing needs. Whether you need to increase your Google ranking, or need help with blogging and social media, Spyder Byte Media can help you get more leads, more clients and more revenue.
Contact Michigan SEO Company, Spyder Byte Media: 586-260-1344