Michigan Internet Marketer Explains SEO 2014
Conversational Search
Google has already come out with the Hummingbird, a complete revamp of their algorithm . Unlike the Penguin and Panda  updates, the Hummingbird is Google's algorithm drastically rewritten, placing emphasis on user intent instead of just individual key words.
For example, consider the difference between the 2 queries:
Query 1: Grand Canyon Pictures
Query 2: Show me pictures of the Grand Canyon
This is because the way people are interacting with the Web is changing.
The first query represents what people have been accustomed to when typing into Google using a keyboard. However with the increased smartphone use, people are now becoming accustomed to voice search. It is not always easy to type in information on a smartphone, especially when people are driving or on the go. This results in"conversational" searches similar to Query 2.
As in all things search, Google wants to provide the best results for mobile users as well as desktop users.
Google Plus
The activity from a Google+ account will have a larger influence on the search results.  This is evident as pages, maps, reviews and the local carousel are displayed in the results. If you haven't already, it would be a good idea to build your Google+ presence.
Schema Structured Data Markup
Structured data markup schema will start to have more impact on the search results. Make sure to add your address, and other data listed for Google. The easier it is to crawl your site, the eaiser it is for Google to rank.
Authority
Authority is nothing new and links continue to be the number one authority signal to Google.  Links that point back to your site from other authoritative sites show Google that your site is trustworthy and basically serve as online votes.  Continue to connect with other content authors and ask them to link to your content.
Don't Forget Social Media
If you write a blog post, be sure to post a link to your new post on your Facebook business page. If your blog article contains unique, quality content, chances are it will receive a lot of likes and shares. So what do likes and shares have to do with search results?   Basically any type of engagement whether it be likes, comments or shares tell Google that you have content that is considered valuable to others.
As you can see in the graph below, provided by Searchmetrix, Facebook shares are one of the highest ranking factors when it comes to search engine optimization.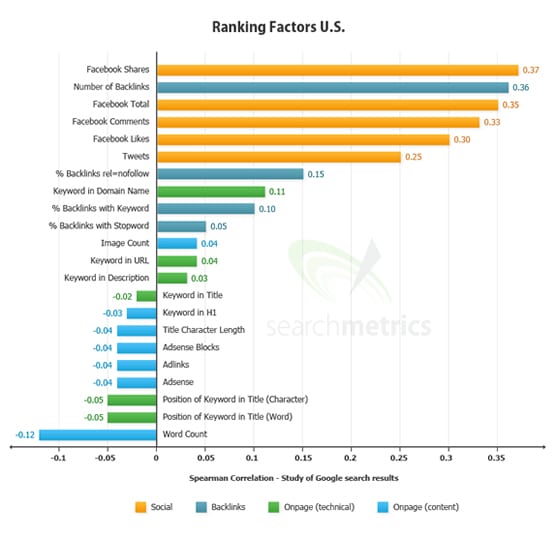 Michigan Internet Marketer Explains SEO 2014
Spyder Byte Media is a Michigan Internet Marketing Company located in Shelby Township. Spyder Byte Media has helped hundreds small business owners in Michigan make it to the top of the search engines and create more revenue by converting their website traffic into new clients.
For More Internet Marketing Tips, Call:586-260-1344