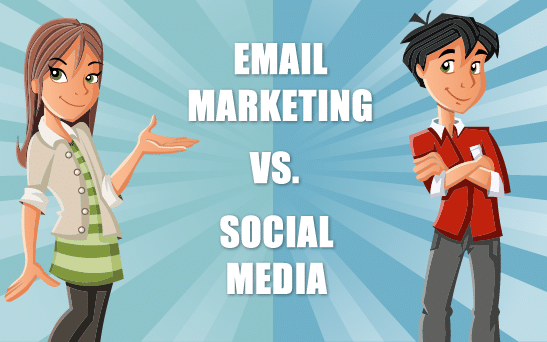 Michigan Internet Marketer Discusses Email Marketing vs. Social Media
Email marketing or social media?…Which one of these digital marketing platforms are the most effective?
You might be thinking, email?  Who even uses that anymore?
Smart Internet marketers do!  Some may think email marketing is being replaced by social media, or a just thing of the past , but they have it all wrong. Don't forget…email was the very first social media marketing tool,  and every inbound marketing technique is crucial if you are trying to attract visitors to your company website.
Why is Email Marketing Important?
Creating relationships and interacting with consumers is critical for any type of business.  Now this goes beyond communicating with your subscribers.  Email marketing is about continuing to keep your business in the back of people's minds.
People enjoy receiving emails and will typically check their email on a daily basis. And with the increased smart phone use, consumers can easily check their mail anytime of day.
Email Marketing Drives Website Traffic
Your Web traffic doesn't always need to come from unknown visitors. Generating leads through email is just as important.
Adding links to your website content in your monthly newsletter is an easy way to increase traffic to your website. You can even create multiple subscriber lists and send links to specific web content or promotions to different audiences. And don't forget, increased web traffic  will help your Google ranking since pages with a lot of traffic are perceived as valuable content to Google.
Email Marketing is Personal
Social media and email marketing use 2 different techniques when interacting with consumers.
Even though you can target different circles and lists on social media, you are still sending a mass message to your followers.  Email allows businesses to send mail based on the subsrciber's actions. Businesses can track what pages people are visiting, what offers they have  clicked on, and which posts they have read.
Combing Social Media with Email Marketing
Today people are  interacting with family, friends and brands on social media sites, making social media  a powerful internet marketing tool. What's even more powerful?  Combing social media with email marketing.
When creating valuable and shareable content, email marketing can be even more effective with social media.  So the point here is, social media has not replaced email marketing. Social media only enhances email marketing.  These two marketing platforms go together like peanut butter and jelly. By combining these tools in your internet marketing strategy you can increase brand awareness, and maximize the effectiveness of your campaigns.
Michigan Internet Marketer Discusses Email Marketing vs. Social Media
Spyder Byte Media is a Michigan Internet Marketing and SEO Company located in Shelby Township.  Spyder Byte Media, helps Michigan businesses like you generate leads through email marketing, social media and optimizing their websites for Google.
Need more Internet Marketing Tips for Your Michigan Business? Call:586-260-1344