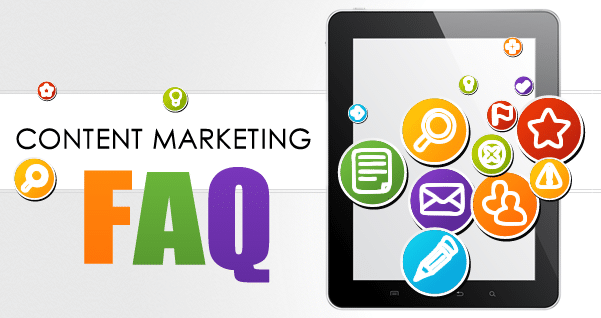 Michigan Internet Marketer Answers Content Marketing FAQ
What is Content Marketing?
Content marketing is promoting your brand by using different types of content. This content might be blog articles, infographics, videos, ebooks, whitepapers, and so on.
But content marketing doesn't mean to create a ton of ads and distribute them online. Content marketing is communicating with consumers without actually selling. Instead of promoting your services, you should be providing information that people will find value in. The strategy being that, if a business consistently offers valuable content to consumers, these consumers will eventually reward that company with their business.
Why use Content Marketing?
Again,  informative content allows you to be the authority in your field and creates customer loyalty. But the benefits don't stop there.
There isn't any business that doesn't want to be in Google's top results, and content marketing can help you do just that.
Google's job is to provide users with the best results and favors sites with valuable information that is updated regularly. In other words, the more content you have on your site than your competitors, the better, from a Google perspective.
Not only does a lot of content itself help you outperform your competitors in the search engines, but the more content you have, the more opportunity there is to target keywords and phrases.
Will we have to keep adding new content?
If you want to stay ahead of your competitors then the answer is yes. You could however re-purpose content. For example, take a compilation of your blog articles and create an ebook.
On the other hand, you should never have duplicate content on your website. Google will not index a piece of content if it is already out on the internet. So this means you should never post the same content twice or post the same article as someone else's site. Writing quality content will take some effort but the results are well worth it.
What types of content will work for my business?
Every business is different so the types of content you use could vary. The best way to get started is to do some research on your competition. What types of content are they promoting?   How can you tell if a certain type of content has been a success with your competitors?   Pay attention to consumers' reaction to their content on social media. Do they use video marketing and receive a lot of likes and shares , but their blogs really don't receive many comments or likes?  You can tell which content resonates with their audience by the amount of social engagement.
What can I blog about?
We get this question a lot . The best content you can create is helpful and informative. It should answer questions that potential clients will ask. For example provide  "how to" articles related to your industry. For more blog article ideas read 8 ideas for your next blog post.
How should we promote our content?
Share your content on your social media sites, and send your best pieces as your email newsletter. Remember your content should not always be "salesy". Social media should be more engaging and less promotional. So if you plan on sharing your content on Facebook for example, think of something valuable to others. For example, if you are in the alarm business you might create a piece of content titled "10 safety tips everyone should know".
Michigan Internet Marketer Answers Content Marketing FAQ
Spyder Byte Media is a Michigan Internet Marketing company located in Shelby Township that has helped hundreds of Michigan business owners with their internet marketing needs. Whether you need to increase your Google ranking, help with blogging or social media,  Spyder Byte Media can help your Michigan business get the online exposure you deserve!
Have more internet marketing questions? Call: 586-260-1344