Michigan Email Marketing Tips – Optimizing the Opt-In to Build Your List
It seems like all of the hype is on social media right now.  In fact, Facebook founder, Mark Zuckerberg has even announced that email is dead.
But smart marketers know that Zuckerberg doesn't hold all the facts. Sure social media marketing can bring a lot of traffic to your site. And what can you do with all of that web traffic? Build an email list!
Michigan Email Marketing Tips – How to Optimize your Opt-In
One strategy for building your email list is to have people subscribe to your newsletter on your website. This can be done by creating an area on your site that allows visitors to opt-in. Sounds easy right?  Not always, which is why we would like to share some tips on how to turn your online traffic into subscribers.
#1 Place your email sign up box "above the fold"
If people can't see your opt-in box they can't very well sign up. Add your sign-up box to every page of your site, "above the fold".
What is "above the fold" you ask? Here's a little history.  "Above the fold"  originated from newspaper publishing and it refers to the area visible before the newspaper folds. When it comes to websites, "above the fold" refers to all of the content visible on the page before you need to scroll.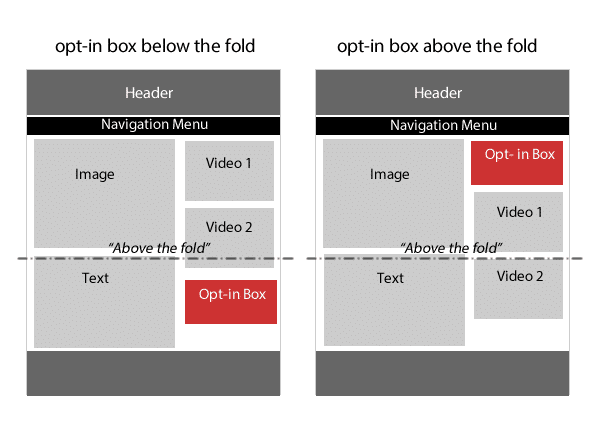 Now of course this may vary depending on the device and resolution people are viewing your site in. The bottom line here is place all calls to action, such as email opt-in boxes at the top of your page.
#2 Make it easy to sign up by adding the entire sign up area on every page
Instead of having your visitors click on a link that takes them to the "opt-in page", add your opt-in box to every page of your site and allow people to sign up without leaving the page. We don't mean to add a detailed form at the top of each page. Instead just add a place for people to enter their email address.

Having the form right there on every page will increase sign-ups since users don't have to go to another page.
#3 Add a testimonial about your email newsletter near the opt-in box
Adding a testimonial specifically about your email messages shows new visitors that receiving your newsletter has been a good experience. Another approach would be to display the total number of existing subscribers.
How do you get testimonials?
You can simply ask current subscribers for feedback, or you could run a contest. For example, give us your feedback and enter to win a _______.
#4 Offer incentive for signing up
If you want to grow your email list, you going to have to do a little more than just ask people to sign up. Remember people are always interested in what's in it for them. Not to mention people's inboxes are already flooded with emails. What will you do to make subscribing worth their while?
You can provide discounts, special offers, or product updates in your newsletters. For instant incentive you can offer a discount or special immediately after signing up. For example, some companies are providing a free e-book in exchange for an email address.
#5 Limit the amount of information you ask for in the opt-in area
Today many of us are in a hurry or just plain impatient. To increase the amount of subsrcibers, it's crucial to limit the the number of fields on your sign-up form. Only ask for information you absolutely need.
For best results, only include a field for an email address and a send button.(see photo under Tip #2)
If you would like additional information to personalize your emails such as first names and birthdays, you can use what is called progressive profiling. Start with just the email address. Once someone enters their email address, they are finished signing up.  However, after completing the sign-up,  they are taken to a second page for additional information. You may even chose to have the second page of information be optional.
Michigan SEO Expert Explains Converting Web Traffic to Email Subscribers
Spyder Byte Media is a Michigan Internet Marketing and SEO Company located in Shelby Township.  Spyder Byte Media, helps Michigan businesses like you generate leads through email marketing, social media andoptimizing their websites for Google.
Need Help with your Email Marketing? Call Today! 586-260-1344