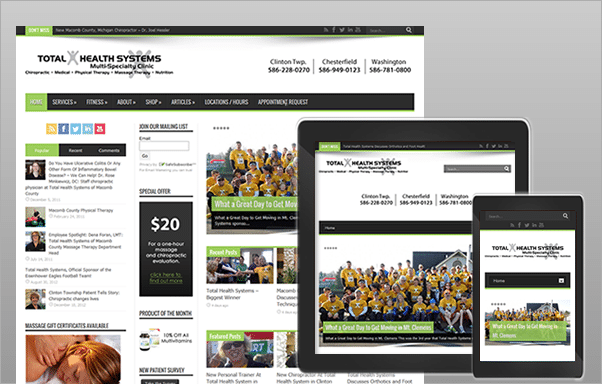 Making Your Website Mobile Friendly and Why it's Crucial for Your Michigan Business
We're shifting into a world where mobile devices are starting to rule the roost as far as connectivity goes. Today, more and more people are  looking for information online via tablets and smartphones. Gone are the days of speculating that mobile phones will start to take over the internet search — it's already happening.
So how does this affect your Michigan business?
Your website needs to be optimized for mobile devices.  This should be your number one priority if you want to keep mobile users from clicking out of your website and moving on to your competitors. And not only do your customers prefer mobile friendly websites, so does Google. So in other words , mobile friendly websites will be prioritized above other sites in the internet search results.
What is Responsive Web Design?
Responsive design is one website, containing the same content that is displayed differently when viewed on devices of different sizes. This is not the same thing as having 2 separate websites, and separate URLs  for mobile and desktop users. With responsive web design, the content is readjusted depending on what device people are using. Responsive websites will display content on a mobile phone as if the content was actually designed for the mobile device. So this means no more  pinching and zooming in, trying to click a link , hoping not to click the wrong one … which any smartphone user will tell you is very frustrating.
Why does Google like Responsive Web Design?
There are many factors in what Google considers when serving up search results. One of these factors is usability.
So for starters, Google can tell if someone clicks on your site and immediately clicks out. This is called the bounce rate.  If you have a high bounce rate (for example mobile users get frustrated and leave your site) this can hurt your Google ranking.  Also, Google is smart enough to tell what sites have clean, fast loading code and what sites don't. Similarly, Google can tell if you have code that is responsive, or mobile-friendly.
More Tips on Making Your Website Mobile Friendly
1.High page rankings matter more on mobile devices.
There are few smartphone users that are patient enough to flip through page after page of search engine results while on their mobile device.  Because of this, optimizing your website for search is even more important to ensure your site is  listed in Google's top results.
2. Think Local
When optimizing your site for the internet search, be sure to include your location in your key phrase. This is always a good practice, but even more crucial with mobile search, as most search results are prioritized by geographical locations.
3. Use Shorter Keywords
When choosing your target key words, you will need to consider what search terms people type in on their device. If people use mobile phones and tablets, they are using touch-screen keys and may use search phrases that are shorter than normal.  Be sure to do your research on what key words are being used and target shorter key phrases if you want to show up in mobile searches.
Also, people using touch-screen keys may be more prone to select the key word suggestions that Google provides when they start typing in search terms. So be sure to incorporate these recommendations in your key phrases.
Making Your Website Mobile Friendly and Why it's Crucial for Your Michigan Business
Spyder Byte Media is a Michigan Website Design company located in Shelby Township, Michigan for over 8 years.
For over a year now, we have been designing responsive websites for our clients.  In fact, many of our clients who had their website designed before 2012, are switching over to one of our responsive, mobile friendly designs.  We provide these high-end , responsive designs by using responsive WordPress themes and then customizing them to represent your business.
If you would like more information on our responsive designs, WordPress, or how to outsmart your competitors on Google, give us a call today at: 586-260-1344
Ready to Make Your Website Mobile Friendly? Call 586-260-1344