Macomb County Web Design Testimonial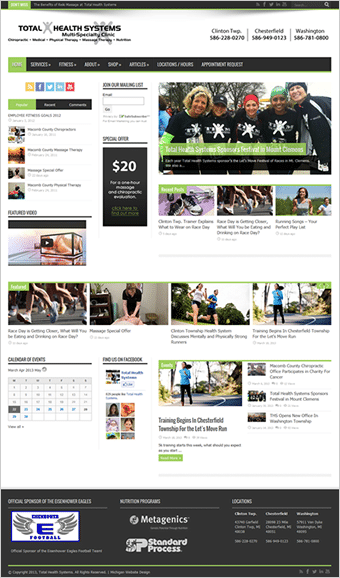 Total Health Systems signed up for Spyder Byte Media's extreme SEO since December 2012. Since then, Spyder Byte has been blogging for our site on a weekly basis. We create and write the stories and email them to Spyder Byte. They take these blogs, reword them for search optimization, then put them on our site as well as all of our social networks.
Spyder Byte has also taken video footage of our employees demonstrating various areas of our Healthcare company, including Chiropractic, Physical Therapy, Massage Therapy and nutrition. These videos include written descriptions that have also been blogged and shared on our social networks.
The most impressive has been the upgrade of our website. Sypder Byte Media upgraded our template so that it would be able to be viewed on mobile devices. Our website is now more professional and much easier to navigate. They took the time to meet with us and determine what direction we wanted our website to go, how we wanted it to look and helped us choose the right template. We are amazed with the results.
–Total Health Systems
Macomb County Web Design Testimonial
Russ Cuthrell is a Michigan SEO expert and Internet Marketer with over 24 years of experience in the Information Technology space. He is the owner of Spyder Byte Media, Inc., a Michigan Website design company located in Shelby Township, Michigan. He has helped hundreds of Michigan business owners make it to the top of the search engines and stay there.
For Macomb County Web Design, call:586-260-1344