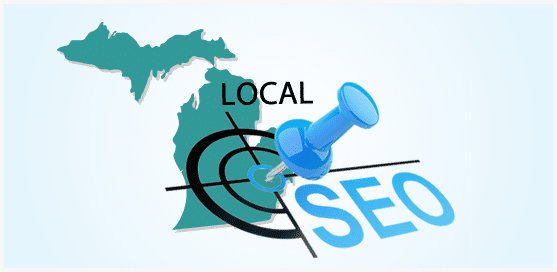 How to Use Local SEO for Michigan Businesses
Does your website show up on Google when people search for businesses in your industry?
Sure it's nice to have a site to send your existing customers to, but what about reaching out to new clients? If you are like most Michigan business owners, you spent a lot of time and money on your website. So the question is, is your website making you money?
Many website owners think that ranking well in the search engines is nearly impossible or way out of their budget. So they settle for being invisible on Google and simply use their website as an online portfolio for their existing clients.  The truth is, getting to the top of Google does not have to be that intimidating, you just have to be realistic with your goals.
For example ranking number one for the phrase "Dentist" is a pretty tall order and may take years of time and effort with no guarantee that you will be number one. This is because there is just way too much competition for simply "Dentist". Not only is the word dentist too competitive, you wouldn't want to use that phrase if you want to drive targeted traffic to your website. This is where local SEO can be beneficial for Michigan Businesses.
Why is Local SEO Better for Michigan Businesses?
People Search for Services Nearby
When people are in search of a product or service online, they typically will type in the service they are looking for, followed by the area they live in. For example "Florist Shelby Township". This allows people to filter their results. If you think about it, experienced internet users know that if they just type in florist, results from anywhere could show up. If I live in Michigan, I'm really not interested in a florist in Ohio.
Competition is Lower
Incorporating a city, county or state into your targeted keyphrase makes your key phrase longer, thus decreasing the competition. If you are a salon in Rochester, Michigan, you no longer are competing with salons in let's say, Chicago on Google. And the reality is, Chicago salons are really not your competition anyways, let alone any other out of state salon. People typically don't leave town to get a hair cut. So why let businesses like this get in your way on the Google search? Think local! Niche it down to your location.
People are Ready to Purchase
If someone types in "Home Remodeling Macomb County", chances are, they are looking to hire a Home Remodeling company in the Macomb County area. On other hand, if someone simply types in "Home Remodeling" they could be looking for home remodeling tips, home remodeling photos, or just doing some research on the topic. Just because someone does a search for home remodeling, doesn't mean they are ready to become a customer. However if someone is looking for a service in a specific location, it is likely that they are beyond the research stage and in the purchasing stage. This is the type of traffic you want coming to your website: targeted traffic with a higher conversion rate.
How to Use Local SEO for Michigan Businesses
Spyder Byte Media is a Michigan SEO Company located in Shelby Township,  that has helped hundreds of Michigan business owners with their internet marketing needs. Whether you need to increase your Google ranking, or need help with blogging and social media,  Spyder Byte Media can help you get more leads, more clients and more revenue.
Ready to Use Local SEO for your Michigan Business? Call 586-260-1344