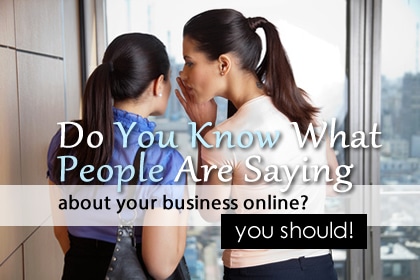 The internet can be great for your business. It provides a place for you to generate leads and reach out to more clients. But the internet can also be detrimental to your company if negative information finds it's way online. For example, a poor review will often have more impact than a positive one. And with so many people using social media to voice their opinion these days, all it takes is one person to post something negative, and it could show up in the search results when someone researches your company name. There are even Websites out there created for people to complain about businesses and bad experiences, regardless if the information is accurate. These websites include ComplaintsBoard.com, Scam.com, ripoffreport.com and more.
No matter who's to blame, your main concern should be taking negative content offline and repairing your company's internet reputation.
How to Repair Your Internet Reputation
A damaged online reputation can wreak havoc on your brand. How can you stay in control of your online presence? How can you repair a damaged reputation?
Remove the Negative Content
It may be as simple as contacting the site owner or author and asking them to remove the content. This of course depends on the situation and where the information was posted. Some sites may be more difficult than others.
If there is anything online that does not follow Google's guidelines, you can report it to Google. For example, we have seen cases where people will create fake Google+ accounts under a company's name that they are seeking revenge on.
Although this still can take time to remove, you may be able to remove the content in its entirety if it is clearly abusing the internet.
Using SEO to Repair Your Internet Reputation
If you are not able to completely remove the negative content, you will have to work hard at rebuilding your brand using SEO techniques.
First, what is SEO? SEO stands for Search Engine Optimization which is the process of applying techniques to help boost a websites visibility in the search results. For example, as a web design company, we use SEO to help our website display above our competitors on when someone does a search for services like "Web Design" or "Internet Marketing".
So How Can You Use SEO to Repair Your Online Reputation?
As mentioned above,  SEO is typically used to target actual services so people can find your website, even if they have never heard of your company otherwise.
In the case of internet reputation management, you will want to target your company name as the key phrase.  This way people that are specifically researching your company will find positive information at the top of Googles search results. This is sometimes referred to as reverse SEO because you are actually forcing the bad information to be displayed lower in the search results. The strategy being that posting enough positive information online can eventually bury the negative content.
How to Repair Your Internet Reputation for Your Business
Is there something online that is hurting your business?  Whether you are trying to repair your internet reputation or you are a new company trying to build your brand online, Spyder Byte Media can help you manage your Web presence.
Call Spyder Byte Media Today at: 586-260-1344