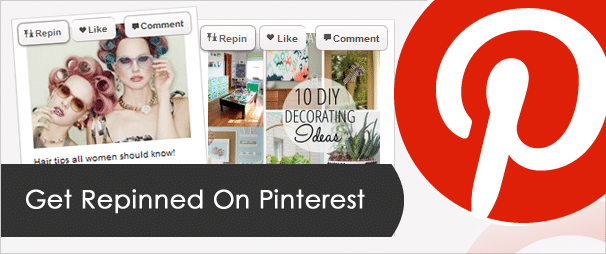 How to Get Your Content Repinned on Pinterest
Do you ever wonder what everyone else is doing to get their content repinned on Pinterest?
The key to getting repinned is filling your pinboards with pin worthy content, and then optimizing them with the appropriate key phrases.
We have provided some helpful tips to help you to optimize your Pinterest presence and get your Content Repinned.
Don't Upload: When you upload content to your pinboard, you miss out on bringing traffic to your website. So, be sure to always pin content from your website as opposed to uploading. If you need to pin photos that are not on your website, create a blog article and add the photos there. This approach brings traffic to your site which not only promotes brand awareness, but improves your site's Google ranking.
If you are not sure how to pin from your site, we have provided step-by-step instructions for  pinning items from your website.
Get to the Point: Whether you are designing graphics for your pinboards from photoshop or if you find your images online, use bold high contrast images. If your image has text, be sure to keep it brief and to the point.
Save Time: Did you know that you can highlight both text and the image you want to pin and the text will be added to your pin's comment area? This is true when you are using the Pin It bookmarklet. If you don't know how to add this to your browser see out step by step instructions for adding the Pin It bookmarklet.
Use hashtags: Adding hashtags makes your pins easier to find in the Pinterest search. For awhile when Pinterest was changing their look from the old to the new, hashtags stopped working but fortunately they're back. When a user clicks on a hashtag in a pin's description, this will display all pins with the same hashtag as well as pins with the key word or phrase in the description.
Naming your Pinboards:You will notice that many Pinterest users share similar names for their pinboards.  Some of these names include "My Style" or "My Favorite Things" For businesses, however, being very niche and specific in your pin board names, can make your content easier to find in a search.
Add the Price: If you're an online retailer, place a dollar sign in front of your price. This way, your pin will be added to the Pinterest gift category. There is a gift section in the main navigation. The price will also display in a banner over the left  corner of your graphic.
How to Get Your Content Repinned on Pinterest
Spyder Byte Media is a Michigan Website Design and Internet Marketing company located in Shelby Township, Michigan.  Spyder Byte Media, helps Michigan clients just like you with all of your social media marketing needs for your Michigan small business. For more help using Pinterest or other social media sites, call today at: 586-260-1344
How to Get Your Content Repinned on Pinterest