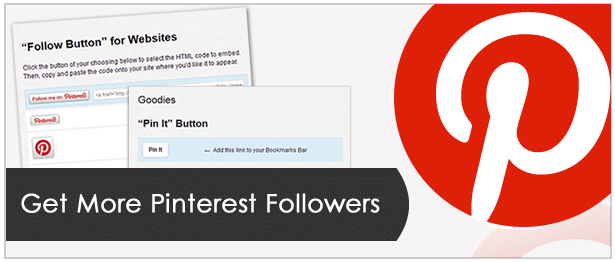 How to Find Followers on Pinterest
Setting up a Pinterest account isn't terribly difficult or time consuming. But how do you create a fan base? How can you find followers on Pinterest? You can find more Pinterest followers by promoting your account in all of your marketing. This means your website, social media, email signatures, print materials and even in person.
Pin-to-Win Tip: First impressions are everything
Don't promote your Pinterest page until it is ready for public view.
This means, make sure you profile is complete with your logo and company information. Also, all of your boards should have pins, even if there may not be many. It's better to look like you just joined than for your page to look incomplete.
How to Get Pinterest Followers from your Website
On your website you probrably have a place for social media icons. If you are trying to find followers on Pinterest you should add a Pinterest icon as well.
Pinterest offers the code to create a "follow me" button for your website or blog. First, log into your Pinterest account. Go to the top of the page and hover over "About" From the about drop down, select "pin it button". This will take you to the goodies page. Scroll down until you see the "Follow Button for Websites"

Get Pinterest Followers from your Existing Social Media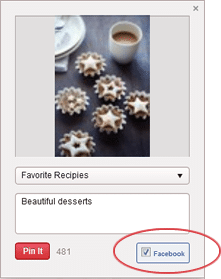 Finding Pinterest followers may be as simple as announcing that you have a Pinterest page as a Facebook status, or tweeting about your Pinterest page.
To promote your pinning even further, check the Twitter or Facebook box whenever you pin or repin something. (shown to the left). You can also add Pinterest to your Facebook timeline so that all of your pins will be posted to your timeline automatically.
You can even share your individual Pinterest boards. To do this log in and locate the board you would like to share. Click the tile for the board so that it takes you your board page. Now go up into the address bar and copy the url. You can paste this url anywhere to share your individual boards.
More Pin-to-Win Tips
Put your Pinterest profile URL on all of your receipts.
Start a promotion where your customers take photos of their favorite products and pin them.
Pinterest offers print-friendly Pinterest logos for you to download free. Add these to your business cards of other sinage.
How to Find Followers on Pinterest
Russ Cuthrell is a Michigan Internet Marketing and SEO Expert located in Shelby Township, Michigan. His company, Spyder Byte Media, helps clients like you with all of your social media marketing needs for your Michigan small business.
For help with Pinterest marketing, call 586-260-1344