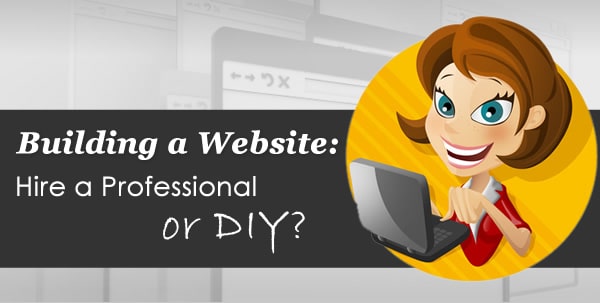 Hire a Michigan Web Design Company or DIY?
If you are a Michigan business owner in need of a new website, your options may be overwhelming. Not only are there numerous Michigan web design companies to choose from, but there are a lot of do-it-yourself website builders out there as well. For example, some hosting companies offer a free website builder as part of their hosting package.
At first a DIY website builder may sound tempting from a financial standpoint, but before you decide to take on the job yourself, consider the following.
How Flexible is the DIY Website Tool?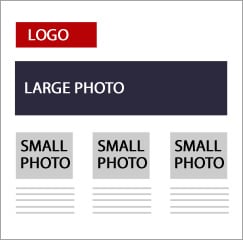 Be sure to find out how many options your website builder has for customization. Are there specific layouts that have already been determined for text and photos?
Consider the image shown on the left. Notice there are areas specified for text and different photo sizes. What if you preferred to have the smaller images at the top or what if you wanted to have more text on the page? Are you able to deviate from the template design? Some of the DIY website builders are very limited when it comes to customizing a layout so be sure that the template will be able to hold all of your content and still look pleasing to the eye.
Can You Achieve the Same Professional Look as Hiring a Web Design Company?
Before you commit to using a DIY website builder, is there a way to see websites that were built using this tool? What does the end product look like? Does this type of website look as professional as your competitors sites do?  There are millions of websites. How will you make your DIY website stand out?
As mentioned earlier, DIY website builders have layout limitations. They may also have limited colors and font choices. Sometimes it is details like this that makes the difference between a professional website and a website that looks amateur. Also, DIY templates may not have all of the features you need for your business. For example, contact forms and photo galleries.
Hiring a Michigan web design company to design your site may be a better option if you are looking for more of a polished, professional look for your business.
Can You Set Aside the Time to Build Your Own Website?
Be honest with yourself. Are you willing to set aside time to build your own website?
First, you will need to take time to learn how the website builder works. Then you will need to spend the time actually building your site. As a business owner you probably already have a lot on your plate. What are you willing to take time away from in order to devote time to this new project? How much time can you set aside? If you have limited free time, you may find it takes months to finish your site. A Michigan web design company can have your site designed in 1-2 weeks depending on the amount of content.
Is There Any Support if You Experience Problems or Have Questions?
If you run into a problem, is there a phone number where support can be reached? Many of these DIY templates only have email or online chat. The trouble with this is that you may need to wait days in between each response. This can be frustrating if you have a deadline for your site to be completed. And sometimes it is just easier to consult with someone over the phone or face to face when you have questions.
When you hire a professional web design company, you have someone devoted to working on your project. You can pick up the phone and call anytime you have questions or concerns.
Hire a Michigan Web Design Company or DIY?
Using a DIY template or website builder may sound easy and inexpensive but hiring a Michigan web design company may be a better investment for your business. DIY websites can have design limitations,  very little support and can be quite time consuming.
Spyder Byte Media is an experienced web design company that has created websites for hundreds of Michigan clients. If you need help building your website or redesigning an existing website, call Spyder Byte Media today at: 586-260-1344.
Hire a Michigan Web Design Company by Calling: 586-260-1344