[fusion_builder_container hundred_percent="no" equal_height_columns="no" menu_anchor="" hide_on_mobile="small-visibility,medium-visibility,large-visibility" class="" id="" background_color="" background_image="" background_position="center center" background_repeat="no-repeat" fade="no" background_parallax="none" parallax_speed="0.3″ video_mp4="" video_webm="" video_ogv="" video_url="" video_aspect_ratio="16:9″ video_loop="yes" video_mute="yes" overlay_color="" video_preview_image="" border_size="" border_color="" border_style="solid" padding_top="" padding_bottom="" padding_left="" padding_right=""][fusion_builder_row][fusion_builder_column type="1_1″ layout="1_1″ background_position="left top" background_color="" border_size="" border_color="" border_style="solid" border_position="all" spacing="yes" background_image="" background_repeat="no-repeat" padding_top="" padding_right="" padding_bottom="" padding_left="" margin_top="0px" margin_bottom="0px" class="" id="" animation_type="" animation_speed="0.3″ animation_direction="left" hide_on_mobile="small-visibility,medium-visibility,large-visibility" center_content="no" last="no" min_height="" hover_type="none" link=""][fusion_text]
How to Find the Best Focus Keyword to Rank For and Create Conversions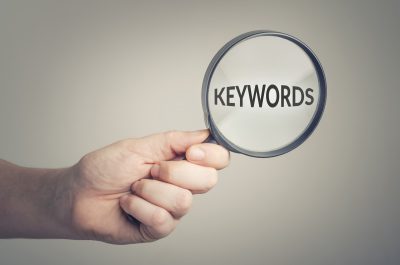 With the average small business set to spend $75,000 a year on digital marketing, there's too much at stake to spend your budget unwisely.
In order to take advantage of low-cost or no-cost ways to promote your business, SEO is the best bang for your buck. When you're searching for a focus keyword to increase sales conversions on your site, you need to understand the full scope of keywords.
Here are five things you need to do when selecting a focus keyword.
1. Understand The Purpose of Keywords
Keywords are at the core of SEO. While optimizing your site for search engines entails much more than just keywords, you need them to help search engines figure out how to rank you. When you strike keyword gold, search engines will know what your content is about and when to show your site as the perfect response to a search.
Keyword research is where you get into the mind of a customer and try to figure out how they find products and services like yours. When you know what your audience is looking for, you can optimize content to give the response they need.
Researching isn't just about creating content, but also about how you can market and promote your business more clearly. When you're running pay per click advertising, you need to have strong research behind you.
2. Get To Know How Search Has Changed
In earlier use of keywords, the goal was to put your keyword in your content as often as possible. That was how you could get your content to the top of search results and artificially play with the numbers.
Posts like that would be flagged as spam now.
Search engine algorithms now know to look for the quality of keywords. Rather than having that keyword appear a certain percentage of times, algorithms are getting better and better. Slowly but surely, algorithms are able to tell when something is well written versus an excuse to capture clicks with overloaded keywords.
Voice search is beginning to change search engines in a big way. Since people are able to use digital assistant software to search by voice, people are using more natural language and asking simple questions. The era of the search phrase is over.
3. Learn Keyword Types
There are three main types of keywords: head, body, and long-tail.
Head keywords are simpler than the rest. They're just one or two words long, like "Michigan Engineering" or "Detroit Cybersecurity". Those keywords will have a high search volume, more than the other keywords, so don't rely on them to differentiate you.
Your body keywords are shorter phrases. These will narrow down search results to focus better on who you are and what you offer. They will still have a good search volume. These phrases will be something like "enterprise software security" or "salon email marketing".
Long tail keywords will have a lower search volume and will be what really accounts for web traffic. They will narrow down exactly what you do and will need to be included several times. These will be more likely responses to common searches made.
Your long tail keywords have to contain specific phrases that help users to find you. If you've carved out a niche or are trying to catch the wave of some recent trend in your industry, your long tail keywords are where you'll use trendier terms.
4. Are You Focused on Keyword Intent?
Keyword intent focuses on what the searcher is trying to get out of their search results.
Start by thinking about your products. If you sell phones, consider what someone looking to buy a phone would start off thinking about. Simple questions like "where", "why", and "how" can get the ball rolling.
Once you find some ideas or brands, you might do a navigational search. That's where you enter terms into the search bar and let the search engine give you a response.
When you're comparison shopping, that's when you're doing something called an "investigational search". You're looking for information so you're going to use different phrases about each product. You're going to use specs like battery life, screen size, or color.
When you're looking to finally make a purchase, you'll use phrases like "buy" or "purchase" in your long tail keywords.
5. Now Choose a Focus Keyword
With the research you've done, you'll now figure out how to find a focus keyword. This is the keyword that you want your site to rank the highest for.
If you're in a crowded field of phone manufacturers (sticking with the analogy above), you might not want to select "phone" or "smartphone". Watch what's happening with trends in your industry. The best way to make a mark right now is to be ahead of the curve.
If the products and services you offer are going to be big in the VR market, you might want to rank higher for "VR" than for "phone". You could even be offering the best battery life. For practical buyers, "battery life" could be the search term to match you with customers.
Choosing a focus keyword is no easy task. You can check search suggestions to see what your focus keyword is related to today, but you should set an alarm to check it again in three months. You might find that searches have moved away from your original intention.
Your Focus Keyword Needs To Be Flexible
While you might want to select a focus keyword that's broad today, you might not be able to compete in your local market against bigger players. That's when you need to get clever and ensure that your focus keyword is a keyword you can rank higher than your competitors for. You might need to change it or massage it every few months depending on your industry.
If you're just getting into SEO, check out our guide to see what's really involved.
[/fusion_text][/fusion_builder_column][/fusion_builder_row][/fusion_builder_container]