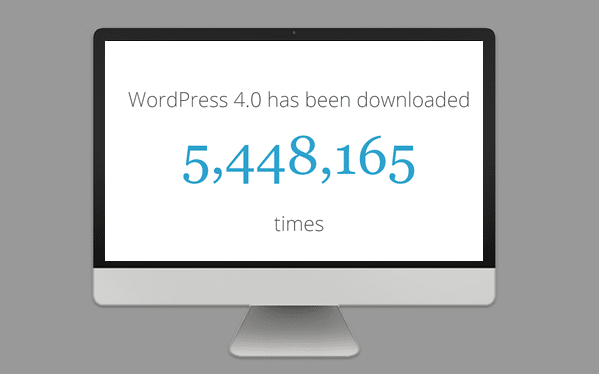 5 Benefits of Using WordPress for Your Company Website
WordPress started as a blogging platform in 2003 and has since evolved into a complete content management system (CMS). It is used for millions of websites from small ma and pop businesses to large corporations. As you can see in the photo above, over 5 million people have downloaded the latest version of WordPress and the amount of downloads increases by the second.
So what are the benefits of using WordPress for your company website?
Easily Manage Content
Back in the day, if you needed to make a change to your company website you would have to call your web designer and wait for them to make the update.
With WordPress, adding new pages or editing existing pages is so easy that anyone can make changes to their website on demand.  
As with anything new, there is a slight learning curve but the WordPress interface is very intuitive and you don't need to know how to write code or use any fancy software.
WordPress is SEO Friendly
Google loves fresh content and considers websites that add content on a regular basis to be more valuable than websites with stale, outdated content.  In fact, Google may stop coming around to index your site if no new content is being added.  WordPress allows you to easily add content easily on a regular basis, giving Google just what it wants.
There are many other factors that influence search engine rankings.  Some of these are clean code, SEO friendly permalinks, site speed and site architecture.  WordPress makes all of these SEO factors very easy to implement by allowing you to customize your permalinks,  assign content to categories and most WordPress themes have squeaky clean code that promotes site speed.
Make Edits from any Computer
All you need is a computer and an internet connection and you are ready to make updates to your WordPress website. You don't need any software so you can literally use any computer or mobile device.
Static websites built in HTML would require FTP software and possibly software to write the code.  As a result,  you could only make edits to your site on a computer running the software and you would need to understand HTML code.
With WordPress, gone are the days of calling your web designer to make changes.  All you need to to is log into your site through a browser, on any computer and you are ready to make edits.
Plug Ins
Plug ins are additional features that can be added to a basic WordPress installation.  You could think of plug ins like the apps on your smartphone.  Your phone alone can make phone calls, text, take photos and more. These are the features that come with the phone right out of the box.  But you could download some apps for even more features such as checking your Facebook, playing games etc.
Just like smartphones, WordPress has a lot of features on it's own but if you need something else like a shopping cart or a video gallery,  plug ins are the way to go.
Prior to WordPress and plug ins, if you wanted a shopping cart on your website, you would need to hire a developer and pay a substantial fee. Plug ins are less expensive and there are even certain plug ins that are free. This makes it possible for business owners to have many features on their website without breaking the bank.
Your Site Can Grow Along with Your Business
Since adding new content can be added quickly and easily, you can add new staff bios, products and services on the fly. This is great for businesses that are growing or simply plan on adding new products after their website is designed. Also, WordPress is theme based so you can change the look and feel of your site at any time without completely revamping your site.
WordPress is the engine powering your website, but there is a theme that sits on top of WordPress that determines the look and feel of your content. You can think of a theme of a skin or a design.  So in a couple of years, when you feel like you want an updated look, you can change themes without having to redesign your site from scratch.
5 Benefits of Using WordPress for Your Company Website
Do you still have to contact your web designer every time you need an edit made to your site? Or maybe you are already using WordPress but would like an updated look.  Whether you need help building a WordPress website or need help maintaining your existing site, call Spyder Byte Media today.
Spyder Byte Media is a Michigan website design company specializing in search engine optimization. We have created hundreds of WordPress sites for Michigan business owners and helped them outrank their competitors in the major search engines. For more information, call Spyder Byte Media at 586-260-1344 or click here to fill out our contact form.