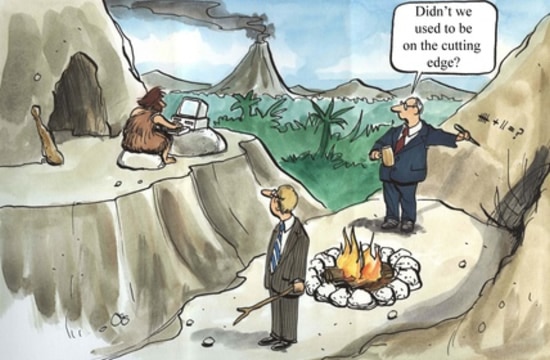 Does Your Michigan Business Need a Website Redesign?
Most of the time when it comes to branding it is good idea to keep things consistent, things like your logo, tagline and message.
When it comes to your company website, it may be time to shake things up a bit. The Web is constantly changing and so are your competitors. Is your website keeping up with the times?
Below are 5 reasons your business website may need a redesign.
New Design Trends
Let's begin with the aesthetics. Your 90's neon website isn't working for you anymore. Well let's hope that your site isn't that outdated! But in all seriousness, think about how websites have evolved from the 90's, from the 2000's and even over the last few years.
Design is always changing. For example, gradients were popular for a while and now "flat" and "thin" is in.  There are other details such as typography, use of colors and even the site width.  Since your website is the face of your business, it is important to have a site that is current. If at all possible, you should try to have it redesigned every couple of years.
Your Website it Not Mobile Friendly
If your site is not mobile friendly, it may be time for a website redesign.
Older web design techniques would accommodate most computer screens. Starting at 640 pixels wide and then evolving up to 1024 pixels over the years. This of course was before the popularity of smartphones, ipads and other tablets.
Today web designers cannot make any assumptions as to what devices your visitors will use. Instead, responsive (mobile friendly) design is used.  Responsive design means that the content on your website will readjust relative to what device someone is using.
A mobile friendly design also means that pages need to load quickly.  Internet connections for people on-the-go may not be as strong as their connection at home and most people will only wait a few seconds for a site to load before moving on to your competitors' website.
If you only follow one new design trend, at least make sure your site is responsive!
Google Algorithm Changes
If search engine optimization is high on the priority list, keeping your site up to date is a must.
For starters, adding new content on a regular basis is a ranking factor in itself.  But Google's algorithm has hundreds of factors and they are constantly changing. For example, Google always has favored responsive design over sites that are not mobile friendly, but they recently started placing more emphasis on this. All the more reason to make sure your site is responsive.
Do you find that your site ranked very well in the past but now it is invisible?  It's time to re-evaluate your website design and internet marketing strategy. 
Your Features are Outdated
Depending on when your site was last designed you may have some third party features that are out of date. Or they have completely stopped working.
Features like contact forms or photo galleries may not work if they were installed years ago and were never updated. This could be because your internet browser no longer supports that code.
Was your site created in Flash? It's time for a website redesign.  Flash used to be the "it thing" but now it is definitely "out" since so many devices no longer support it.
You Cannot Manage Your Own Content
In addition to features being outdated you may find you are missing out on other new features.  Features such as a built in blog and the ability to manage your website content whenever you please.
A content management system like WordPress is the best solution for managing your own content. This also keeps Google happy since you can easily add new content on a regular basis.  And, once you have WordPress installed, it is easier to redesign your site next time. This is because WordPress allows you to change the theme/template without having to do a complete overhaul on your website.
Does Your Michigan Business Need a Website Redesign?
If you are ready for a website redesign, contact Spyder Byte Media today to find out how we can help!
Also be sure to take a look at our gallery of Web Design Before and Afters.