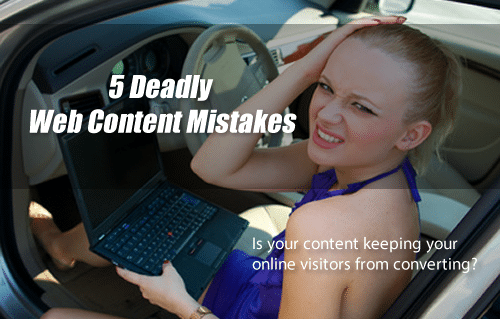 5 Mistakes Small Business Owners Make When Writing Web Content
So you have worked so hard on writing content for your website. You've carefully crafted each sentence, read it over numerous times, and edited it until it was perfect.
But why are people bouncing from your site instead of converting from web visitors to clients?
Could it be because you are making one of the following mistakes?
#1 You didn't research your target audience
In order to write persuasive content you may have to do some research to find out what makes your audience tick. Your content will not be persuasive if it doesn't appeal to what your readers want or need.
Your research should include basic demographics and trends in your industry. You can even conduct a poll and ask readers what they're looking for that other businesses are not offering.
#2 Your content is too "sales pitchy"
Don't you hate it when you walk into a store and you are immediately hounded by a sales person? All you want to do is look around on your own and then maybe, when you are ready, find a salesman and ask questions.
Make sure your content doesn't sound like a sleazy salesperson by being too aggressive and asking for money right off the bat. Realize that your visitors may not even be ready to buy, and just researching your product.
You may be thinking, "What's the point of having a company website if I cant sell anything ?" Of course you want to sell products, but there is the subtle way and the sleazy way. For best results, write articles that inform your visitors and answer questions they may have. Then when your visitors are ready to buy, you will appear as the authority in your field, not the annoying salesperson following them around the store.
#3 Your content is boring and stuffy
Ok, now it's time to forget about some of those rules you learned in English class. We are not saying to be unprofessional or to sound like someone struggling with their English wrote your content. What we are saying is to loosen up!
You are not writing a paper in college, you are writing persuasive and even fun copy. Avoid using difficult words or trying to sound better than you are.  The rule of thumb should be to write as if you sitting across from someone having a conversation.
#4 You forget about design elements
If you are writing your content in a word processor such as Microsoft Word, you may be ignoring what design has to offer. All of your final edits should take place after your copy is added to your website. Then it will be easier to see where you can place key elements and calls to action for the most impact. Even the smallest design such as choice of font and use of headings can take your content from dull to desirable.
#5 Your copy says "It's not you, it's me"
We know you work hard on your product and you are the best in your industry, but unfortunately consumers are not interested in your company, they are only interested in themselves. People want to know what's in it for them. It's that simple.
Your message should be about what you can do to improve people's lives, save them money, save them time, make them healthier…etc. Not  filled with superlative adjectives describing your company.
5 Mistakes Small Business Owners Make When Writing Web Content
Spyder Byte Media is a Michigan Web Design Company located in Shelby Township, specializing in SEO and Internet Marketing.  Spyder Byte Media has helped hundreds small business owners in Michigan make it to the top of the search engines and create more revenue by converting their website traffic into new clients.
Looking for more web design tips? Call today: 586-260-1344