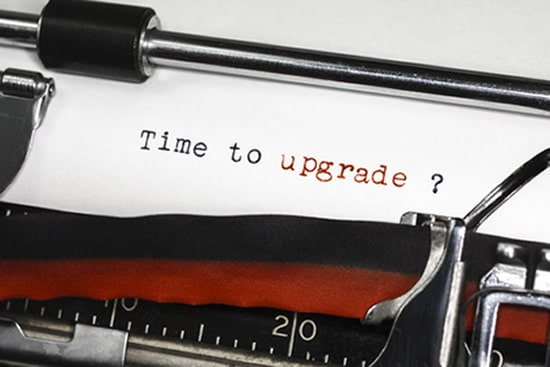 4 Signs it Might be Time To Redesign Your Website
Your Web Design is Clearly Outdated
What would you do if you saw someone wearing a suit straight out of Miami Vice, and talking on a cell phone the size of a brick? Would you laugh?
Well that's what your customers are doing if they go to your website and it looks like it was designed in 1995. You might not care if you are wearing the latest styles or using state of the art technology, but when it comes to your website and representing your business, you must keep up with the trends.
Looks themselves are not the only thing that can become outdated, so can functionality. Things that were popular years ago may not work as they should anymore. For example, Flash used to be huge. Now if you pull up a flash based site on an ipad or iphone, it won't display… period.
Your Site is Hard to Navigate
Nothing sends people to your competitors sites quicker than poor navigation.
Common navigation problems are multiple versions of the main navigation menu, not providing a way back to the home page, broken links or links that just refresh the page you are on.
Your main navigation should be consistent on every page and easy to find. Use a text based navigation in the header of your site. This doesn't mean to use cute little graphics that represent text, it means actual text. A navigation made out of graphics is not the way to go if search results are important to you.
Your Website Does Not Look Good on All Browsers and Devices
Today people have different browser choices…Chrome, Firefox, Opera,  Safari to name a few. The thing is, not all of these browsers will display a website the same.  A good web design will be tested in all browsers to ensure that it looks great no matter what people are using.
Not only should your site display correctly in all browsers, it should display on any device.  Today, responsive designs adjust to any device and  display the content accordingly. It doesn't matter if you have a 25″ monitor or an iphone. Your website will look great and be easy to navigate.  With so many people using smart phones to access the internet, a responsive design is crucial. In fact, Google even prioritizes responsive sites over sites that are not.
Your Competitors Site's Show up in Google's Results Before You
Having a beautiful site that is not optimized is like spending your money on a new Ferrari and never taking it on the road. It just doesn't make sense.
Even if your site looks fantastic in every browser and on any device, if your site is not optimized it will be invisible to potential clients. Your website should be easy to find when someone is looking for your services, and should help generate business.
Maybe you did have your website optimized, but now you have lost your ranking. Similar to design trends changing, Google changes it's requirements for search engine optimization. Not to mention there are always new sites and new competition, trying to outrank you.
4 Signs it Might be Time To Redesign Your Website
Spyder Byte Media is a Michigan Web Design and Internet Marketing Company located in Shelby Township, Michigan. Spyder Byte Media has helped hundreds small business owners in Michigan make it to the top of the search engines and create more revenue by converting their website traffic into new clients.
Is it Time to Redesign Your Website? Call:586-260-1344